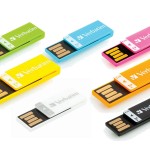 This is such an original idea ! A USB Flash Drive which can be used as a paperclip and bring together files or folders. Extremely thin (let's take a look to the screenshots below), extremely light, Verbatim also attracts thanks to its freshness : no less than 7 different colours for this Clip-it ! Well done ! (Besides, it won two awards : Red Dot Award and IF Gold Design).
This key is ideal for instance in the case of a seminar, does one want to distribute it to participants with all the projected documents on it.
Second good idea : one may personnalize it through a dedicated online website here. Very useful for a company or an event (professional or personal). See illustrations below.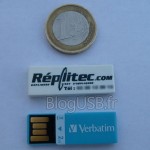 Caution ! It is so thin that one should be cautious when plugging it : one may not break it but plugging it on the wrong side.
As far as small regrets are concerned :  no strap to link it to a key (as we said, it is a kind of paperclip !), an evaluation version of the password-data protective software (here), transfer performances which are not the main quality of this key, and eventually no data transfer witness-diode.
The official data sheet is available here. The key has a two-year guarantee and is compatible with Windows, Mac & Linux.
Here is the link for the black model 4 Go below, but also :
Blue model (2 Go)
Pink model (2 Go)
Green model (2 Go)
Orange model (2 Go)
Yellow model (2 Go)
White model (2 Go) ou here for a 4 Go model

Prix
Vous aimerez aussi ces autres clés :